The city of Zagreb represents a fantastic base for exploring the country's diverse landscapes, rich history and charming towns. While Zagreb itself has much to offer, including stunning architecture, cultural attractions, and a thriving culinary scene, its strategic location allows travelers to take day trips to nearby destinations. From cascading waterfalls and medieval fortresses to picturesque old towns, here are the five best day trips you can take from Zagreb to uncover Croatia's hidden gems.
1. Plitvice Lakes National Park
Located approximately two hours from Zagreb, Plitvice Lakes National Park is a UNESCO World Heritage site and a natural wonder that will leave you amazed. The park offers a network of turquoise lakes, interconnected by stunning waterfalls and lush greenery. The park also offers wooden footbridges and hiking trails which allow travelers to sightsee this natural wonder, with breathtaking views along the way.
If you're planning a day trip from Zagreb to Plitvice Lakes, here are some essential tips and the best ways to reach this natural paradise.
Plan Ahead: Plitvice Lakes National Park can get crowded, especially during peak tourist season. To avoid long queues and ensure a more enjoyable experience, plan your visit in advance. Consider visiting on weekdays or early in the morning to beat the crowds.
Choose the Right Trail: The park offers several hiking trails, each providing a different perspective of the lakes and waterfalls. The most popular routes are Route A and Route B. Route A is shorter and focuses on the upper lakes, while Route B is longer but allows you to explore the lower lakes. Both routes can be combined for a more comprehensive experience.
Wear Comfortable Shoes: Exploring Plitvice Lakes involves walking on wooden footbridges and uneven terrain. Make sure to wear comfortable, sturdy shoes to navigate the trails with ease.
Dress Appropriately: The park is surrounded by dense forests, which can provide shade and make the air feel cooler. However, the weather can change quickly, so it's advisable to dress in layers and bring a waterproof jacket, especially during the rainy season.
Bring Snacks and Water: While there are cafes and restaurants within the park, having snacks and a water bottle with you is advisable, as you may get hungry or thirsty during the hike.
Respect Nature: Plitvice Lakes is a protected area, and it's essential to respect the park's rules and regulations. Stay on designated paths, do not swim in the lakes, and avoid feeding the wildlife.
Getting to Plitvice Lakes from Zagreb:
There are several transportation options to reach Plitvice Lakes National Park from Zagreb:
By Car: Renting a car is a convenient option, as it allows you to have flexibility and explore the park at your own pace. The journey takes approximately two hours, and there are well-marked signs directing you to the park entrance.
By Bus: Regular bus services operate between Zagreb and Plitvice Lakes. The journey takes around two to two and a half hours. Check the schedule in advance and arrive early at the bus station to secure your seat, especially during peak season.
By Organized Tour: If you prefer a hassle-free experience, joining an organized tour from Zagreb is a great option. These tours typically include transportation, park entrance fees, and a guided tour of the park. It's a convenient way to optimize your time and ensure a smooth trip.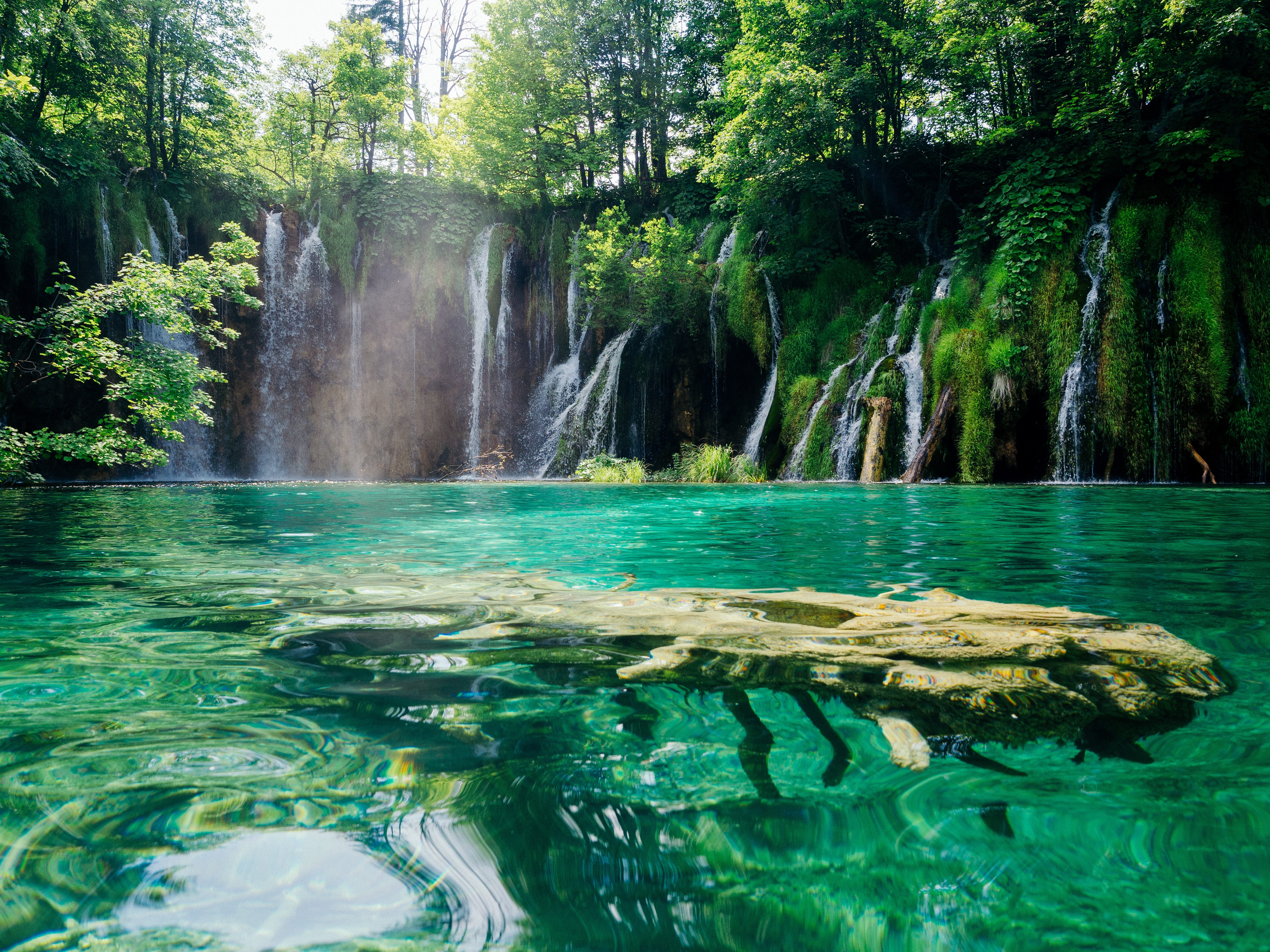 2. Samobor
This charming town is just a short drive west from Zagreb, and it is a perfect destination for a one day trip from Zagreb. Samobor offers its visitors a laid-back atmosphere along with picturesque beauty and rich history. The town is known for its unique architecture, cobblestone streets, traditional cream cake called ''Kremšnita'' and its ruins of the Samobor Castle. A visit to Samobor is ideal for everybody looking for a relaxing one day getaway from Zagreb.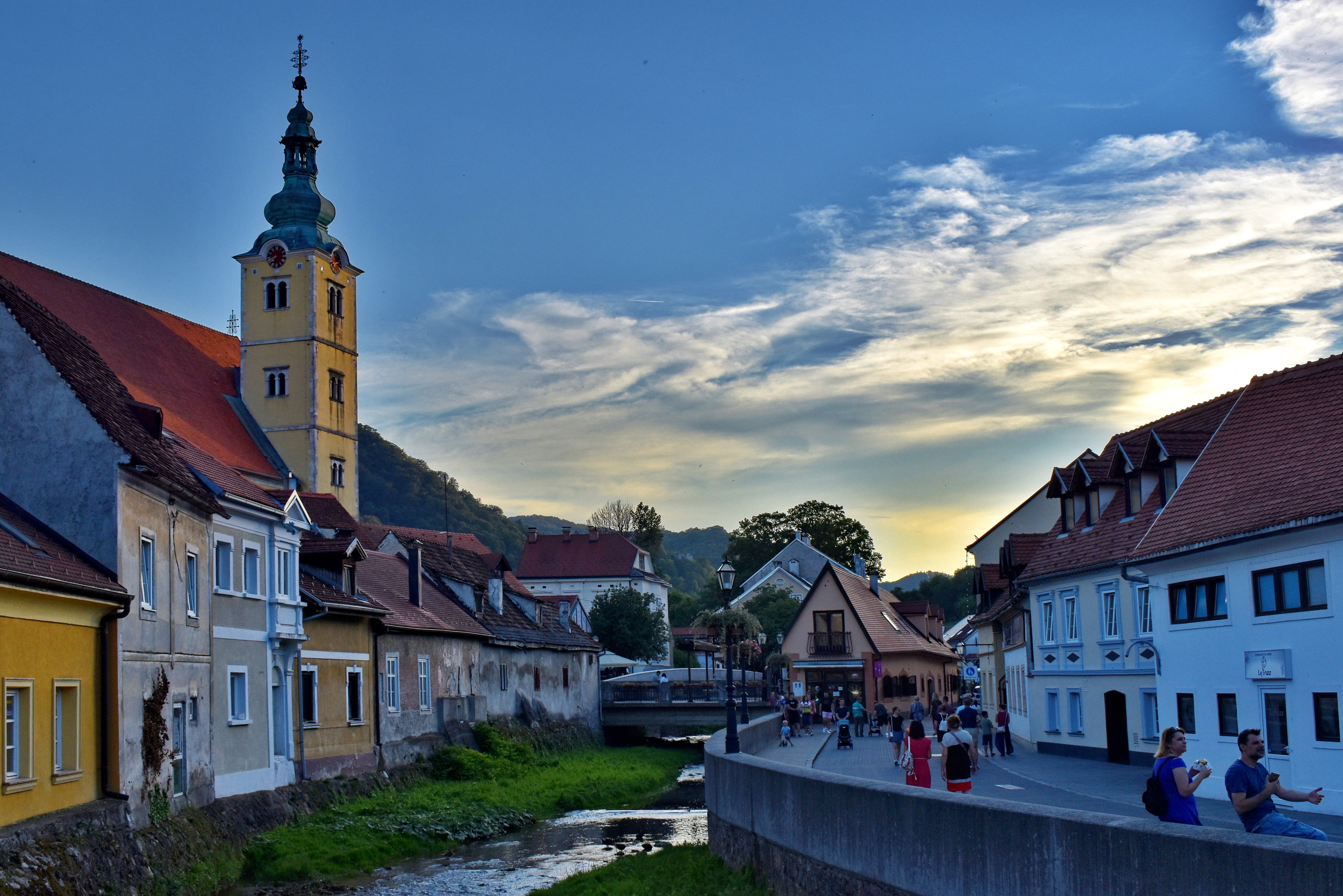 Photo credit: Miroslav Vajdic, Wikkimedia Commons
If you're planning a trip from Zagreb to Samobor, here a some tips to ensure you make the most of your visit:
Plan Your Time: Samobor is a compact town that can easily be explored in a day. Start early in the morning to maximize your time and take advantage of the quieter hours. Plan your activities and prioritize the attractions you wish to see to make the most efficient use of your time.
Transportation Options: There are several ways to reach Samobor from Zagreb. If you have a car, it offers the most convenience and flexibility, allowing you to explore the town at your own pace. Alternatively, you can take a bus from the main bus station in Zagreb, which operates regular services to Samobor. Check the schedule in advance and arrive a few minutes early to secure your seat.
Discover the Old Town: Begin your visit by exploring Samobor's quaint old town. Admire the colorful facades, ornate architecture, and decorative details of the buildings. Don't forget to explore the central square, Trg Kralja Tomislava, where you'll find important landmarks like the Church of St. Anastasia and the Town Hall.
Visit Samobor Castle Ruins: Make your way up to the ruins of Samobor Castle, situated atop a hill overlooking the town. The castle offers panoramic views of the surrounding landscapes. Take a short hike to reach the ruins, and as you ascend, enjoy the scenic beauty and embrace the tranquility of nature. Remember to bring your camera to capture the breathtaking vistas.
Culinary Delights: Samobor is famous for its culinary offerings, so make sure to indulge in the local gastronomy. Treat yourself to the renowned Samobor Kremšnita, a delightful custard cream cake that is a must-try when visiting. Explore the local bakeries and cafes for other traditional treats and local delicacies.
Local Artisan Crafts: Take some time to explore the artisan shops and galleries in Samobor. You'll find unique handmade crafts, ceramics, artwork, and local products. Support local artisans and bring back a special souvenir to commemorate your visit.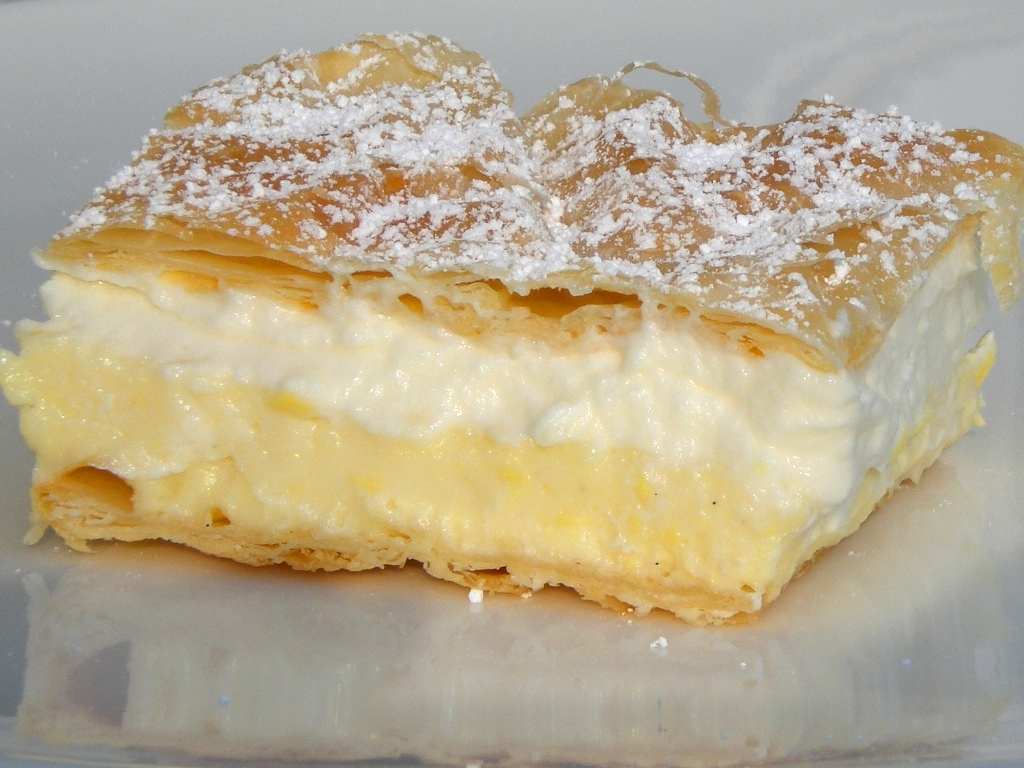 Photo credit:F_A, Wikkimedia Commons
3. Trakoščan Castle and Varaždin
Trakoščan Castle is one of the most attractive castles in Croatia, which is definitely worth visiting for a one day trip while you are in Zagreb. The castle is located just an hour drive north from Zagreb, and 30 kilometers from the town Varaždin, which you can also include in your one day trip. Trakošćan Castle, perched atop a hill overlooking a tranquil lake, is a beautifully preserved medieval fortress from the 13th century, with amazing architecture and stunning landscaped gardens. After exploring the castle, the best is to continue your journey to Varaždin, the town also reffered to as ''Little Vienna'', due to its well-preserved Baroque architecture.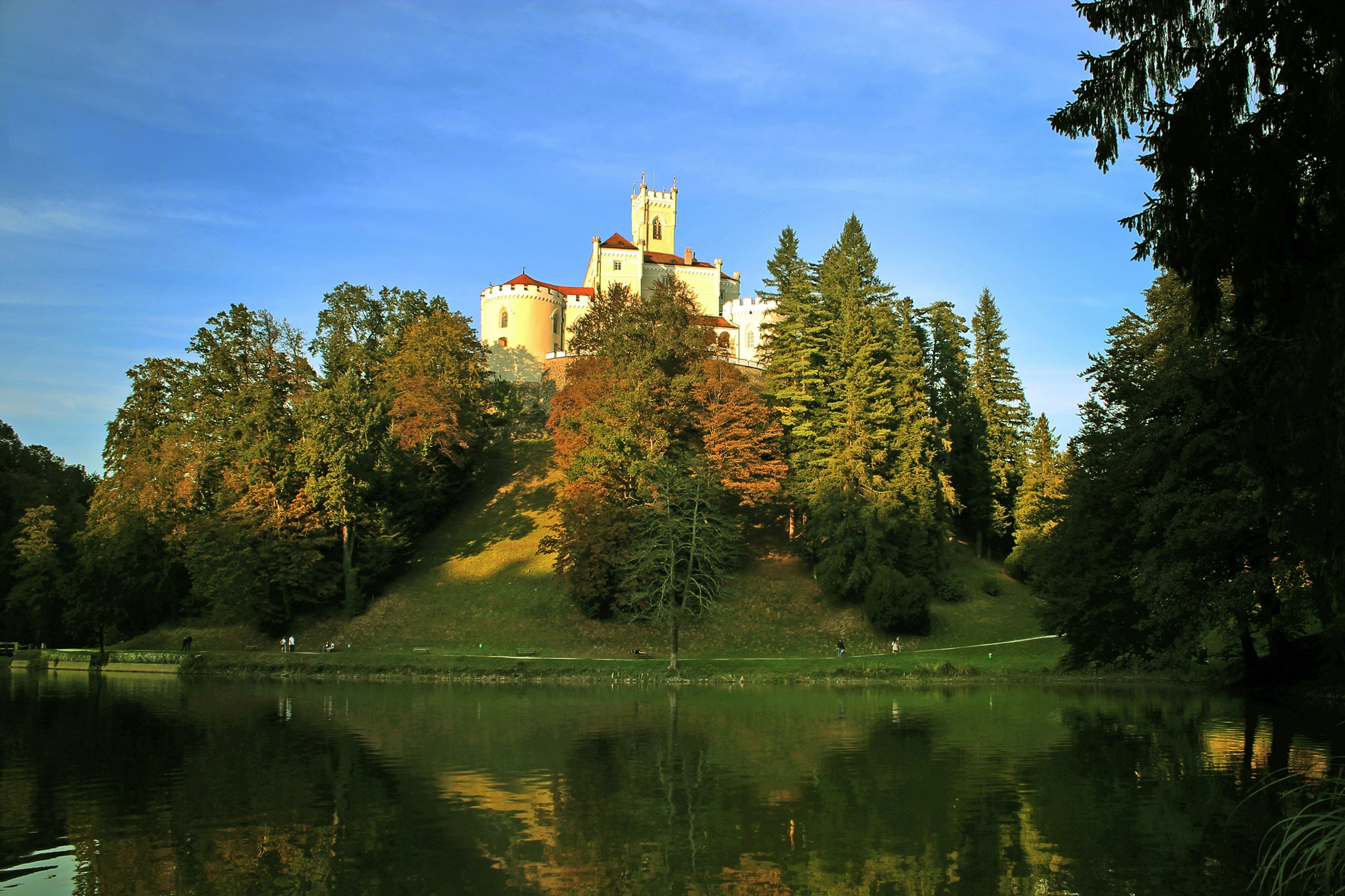 If you're planning a trip from Zagreb to Trakoščan and Varaždin, here a some tips to ensure you make the most of your visit:
Plan your visit: Plan your trip in advance, especially if you want to visit Trakoščan Castle and Varaždin in one day. Our recommendation is to head towards the castle early in the morning, so that you have time until lunch to see the castle and enjoy the surrounding nature. In the afternoon, use the time for sightseeing in the city of Varaždin.
Take a tour of Trakoščan Castle: Inside the castle you will find works of art such as oil paintings and portraits dating back to the 16th century, collections of weapons once used in battles and elegant rooms reconstructed in Baroque, Rococo and Neo-Gothic styles.
Explore the nature that surrounds the castle: Prošečite se šumskim parkom oko dvorca i Trakoščanskog jezera, koji nude jedinstven doživljaj netaknute prirode. Priroda i park koji okružuje dvorac je tipičan primjer romantičarskih perivoja koji su se gradili sredinom 19. stoljeća, s tim da je parkovni prostor oko dvorca dan danas očuvao svoj gotovo izvorni oblik.
Explore the town of Varaždin: This cultural city offers a large number of museums, impressive baroque architecture and a rich history. Varaždin is also considered the city with the best beer, so dont forget to try out their draft beer during a break from walking around the city.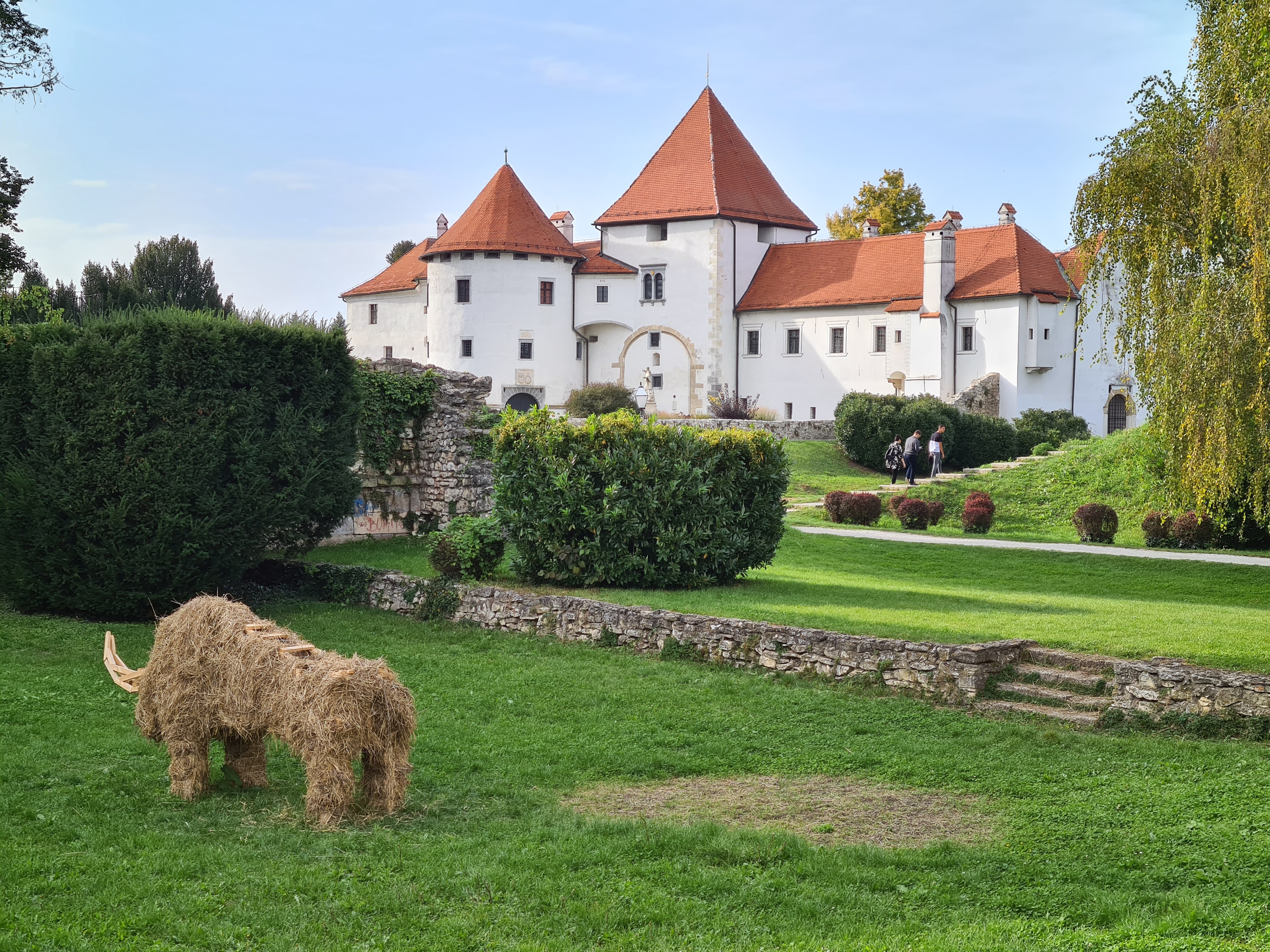 Getting to Trakoščan and Varaždin from Zagreb:
By Organized Tour: if you want to avoid organizing your one day trip, it is best to indulge in an organized tour to Trakoščan and Varaždin. Most tours include transportation, a tour of the castle, a walking tour of the city of Varaždin, a ticket to enter Trakoščan Castle and hotel pick-up.
By Bus: From Zagreb you can take a bus to Krapina, but from Krapina you need to take a taxi that goes to Trakoščan Castle. If you plan to include Varaždin in your day trip, we recommend that you take an organized tour or rent a car so that you can visit everything in one day.
By Car: renting a car is a convenient option, because you can adjust the tour time to your wishes. It takes an hour to drive to Trakoščan castle, and from Trakoščan to Varaždin is a little less than an hour.
Taking a one-day trip from Zagreb to Plitvice Lakes National Park, Trakošćan Castle, or Samobor Town offers a wonderful opportunity to explore the diverse and captivating beauty of Croatia's countryside. Each destination offers its own unique charm and attractions, making it a tough choice to select just one. If you are a nature enthusiast, Plitvice Lakes National Park should be high on your list. The park's well-maintained trails and wooden walkways allow visitors to easily explore the park's natural wonders and immerse themselves in the tranquil ambiance.
For history buffs and castle admirers, Trakošćan Castle provides a glimpse into Croatia's rich medieval past. Situated atop a hill overlooking a serene lake, this fortress showcases impressive architecture, ornate interiors, and a fascinating collection of historical artifacts. Exploring the castle's rooms and grounds evokes a sense of grandeur and transports visitors back in time.
Alternatively, if you prefer a charming town with a laid-back atmosphere and a taste of local culture, Samobor is an ideal destination. Known for its picturesque streets, colorful facades, and cozy cafes, Samobor offers a delightful escape from the hustle and bustle of city life. You can stroll through the town's narrow alleys, sample local delicacies like kremšnita (cream cake), and take in the charming ambiance that permeates every corner.
Regardless of which destination you choose, all three options promise a memorable day trip from Zagreb. Each place offers its own unique experiences, allowing you to connect with Croatia's natural wonders, historical heritage, or vibrant local life.